Brian MacDonald Merchandise
T-shirts $23.00 each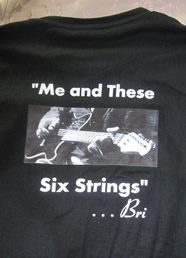 Yes, that is the one and only George Gruel, with decades of Rock Era fame, modeling a Brian Tee.  Look for George in his new book, "Lawyers, Guns and Photos; a tribute book to the late great Warren Zevon".
Back of shirt shown at right.
Specify size: 
Small   Medium   Large   XL   2XL  
Pre shrunk cotton
(Price includes land shipping)
CDs $13.00 each
Midnight in Nowhere

Wasted Avenue

Midnight Xpresso Tour

Midnight in Nowhere
A Heart Like Yours
She Don't Love Him Anymore
A Man In Love
Dreams About You
Money, Honey
Midlife Mambo
Work
Strong Woman
Toward The Light

Where This Road Leads
Runnin' Hot Tonight
Wasted Avenue
Yesterday's Dreams
Last Chance Café
She Doesn't Know She's Beautiful
Down Here In The Real World
Rock The Armageddon
She's Got Her Own Life Now
Long Ride Home
Wings Of An Angel

Bartender Blues - Midnight In Nowhere Medley
She's To Good For Me
She Don't Love Him Anymore
Your Love Got In The Way
Stuff That Works
Hard Lovin' You
Dream Lover
Man's Job
Money Honey
Shadowtime
Work
Midlife Mambo

Bartender Blues, written by James Taylor
She's Too Good For Me, written by Warren Zevon
Stuff That Works, written by Guy Clark
Dream Lover, written by Bobby Darin
Man's Job, written by Bruce Springsteen
Carmelita, written by Warren Zevon
All others written by Brian MacDonald.